These can be used as topic points or to promote group discussion.
Book Notes , extension Activities and fun sheets have been compiled for many of Theresa Breslin books by a variety of people including the author herself. Theresa Breslin would like to thank the people who have so generously agreed to share their development work on this Website. If you want to contribute please contact

For thematic/topic searches (e.g. bullying) please check Keyword Page

You can also access these notes via the Books Page where each of Theresa Breslin's titles appear with a features list of… extract: reviews: research: activity: book notes.
More titles will be added as material is prepared – look out for additions to those listed below.
Divided City (pdf)
The Medici Seal (pdf)
Remembrance (pdf)
Nostradamus Prophecy (pdf)

Here's a picture of Blair to colour in. Click the thumbnail picture to view it full size and save it as a gif, or for a version embedded in a Word file use this link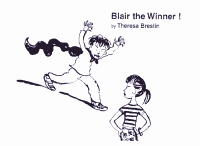 Can you find these words from the books amongst the grid?
| | | | | | | | | | |
| --- | --- | --- | --- | --- | --- | --- | --- | --- | --- |
| A | E | G | Y | P | T | M | X | V | H |
| R | V | V | C | H | S | G | C | E | P |
| S | R | I | N | L | D | N | L | F | A |
| A | A | K | E | P | R | M | O | L | Z |
| X | N | I | X | T | E | O | A | B | Y |
| O | C | N | K | T | A | D | K | Y | O |
| N | I | G | H | T | M | A | R | E | R |
| M | E | S | C | H | O | O | L | J | K |
| C | N | Z | B | M | A | S | T | E | R |
| I | T | P | R | I | N | C | E | S | S |
| | | |
| --- | --- | --- |
| CY | VIKINGS | YORK |
| PRINCESS | SAXON | CLOAK |
| ANCIENT | SCHOOL | HELMET |
| EGYPT | NIGHTMARE | DREAM |
| MASTER | | |