- Carnegie Award Winning Author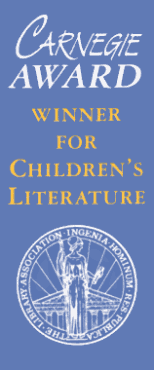 Theresa Breslin is the critically acclaimed author of over 30 books for children and young adults whose work has been filmed for television, broadcast on radio, and is read world-wide in many languages. A respected contributor to professional journals, she is passionate about children's literature and literacy. She travels extensively, doing research for her books and speaking at international conferences and book festivals.
She won the Carnegie Medal, the UK's most prestigious award in children's literature, for Whispers in the Graveyard, her compelling story of a dyslexic boy. Before taking up writing full time Theresa worked as a librarian. Her books range from those for younger readers such as The Magic Factory series to middle readers like Bullies at School and the four Dream Master books - funny time-slip adventures exploring aspects of storytelling. She writes books for children and young adults, with some titles especially suitable for EAL readers. Divided City, exploring themes of prejudice, friendship, citizenship and conflict resolution has been shortlisted for ten book awards, winning the Catalyst Book Award and the RED Book Award. She has a range of historical novels including the The Nostradamus Prophecy and bestselling Remembrance and The Medici Seal, touching on the life of Leonardo da Vinci and shortlisted for the Book Trust Teen Book Prize and the Royal Mail Children's Book Award. She has also written shorter books - her most popular title being Alligator, recently also published as a play for schools.
Her latest book is Prisoner of the Inquisition, is already nominated for a number of book awards.
| | |
| --- | --- |
| | |
| Lennox Castle | Castle Sween |
She was born and brought up in a small town in the middle of Scotland close to castles, old burial grounds and the Roman Wall, all of which helped fuel an active imagination as a child, further developed by a real love of reading.
Her books have been praised for their elements of strong setting and sense of place and she acknowledges that she draws on the dramatic landscape of Scotland, its history and its culture.
While working as a mobile librarian she wrote her first book - the route included a small village where the local steel mill closed down devastating the community. She has been described as an outstanding writer who combines a powerful sense of drama with memorable characters and superb storytelling. Books range from historical tales to modern school stories, from science fiction and fantasy to real life situations faced by children, such as bullying, or settling in at a new school. As well as writing "fun" stories she thinks it is valuable to address serious issues with the framework of fiction and allow young people to explore and extend their knowledge in this way. She aims to encourage Imagination, and themes within the books often reflect her interest in storytelling and children's literacy; with "Challenged Children" taking a leading role. She loves writing humorous stories where children cause confusion, and triumph over adult foolishness. Her work is in translation in a number of languages, is used extensively in schools and has been filmed for television and dramatised for radio.
She is committed to promoting reading and writing and will talk about this to anyone who will listen!
Click on any of these thumbnail images for a larger version

Speaking at the offices of the British Council in Hong Kong

On the BfS stand at the ECIS Conference, Berlin

Cheung Sha Wan School, a session with teachers and students
In the Power Pack - the active guide to Libraries which she wrote and compiled - you can see that the Lib-rar-ee is the place to be!
The Library Rap -

See

- Hide
Library Rap

if you


want to read
or to know the speed
of the fastest horse
and the slowest tortoise
to find out the date
of your local fete
or the heaviest weight
of the fattest man


well...here's how you can





check yourself in at the
librareeeeeee
check out a book
check it out
check it out
checka checka checka
check it out!

if you


fancy a story
from Alpha Centauri
want a trip to the stars
and return via Mars
spooky tales that chill
you thrill you will
you get a life get a look
in on a fantasy theme
a chance to dream and
learn how to cook


just... open a BOOK!



check yourself in at the
librareeeeeee
check out a book
check it out
check it out
checka checka checka
check it out!

if you


need to know
when the train will go
which teams end up
in the last World Cup
who did what
where when and why
is it the truth
or was it a lie?
wannabe a whiz
in the latest quiz
get the facts
send a fax
hear the views
all the news
devour
go the the library
and grab the POWER-PACK
NOW!!!!!!!!
She has served on the Board of Scottish Book Trust and on the Advisory Committee for Public Lending Right in the U.K. Supported by the Scottish Arts Council and the Federation of Children's Books Groups, she started the West of Scotland Children's Book Group. (see LINKS)
She actively supports literacy initiatives for young people and has written articles and made a wide variety of presentations on this subject.
She co-ordinated the Scottish Writers project producing the BAFTA nominated CD Rom - an exciting interactive CD using computer based game technology to promote fiction in an innovative way to 14-16 year olds.
She is in demand as an experienced Conference and Book Festival speaker and creative writing tutor. Bookings via publishers or Scottish Book Trust.
In her spare time she loves to browse through old children's books and also enjoys walking, films, theatre, reading (especially children's books) and exploring old graveyards.
She loves to travel, meeting people, seeing different sights, and hearing stories from countries around the world.
Walking on the Great Wall of China

Blue Church, Berlin

Outside the Chinese History Museum, Tiananmen Square

Boat in the harbour of Hong Hong

View of the Great Wall of China

In the old Imperial Palace (Forbidden City) Beijing