Ghost Soldier
Children on the Home Front during WW1 - the story that was waiting to be told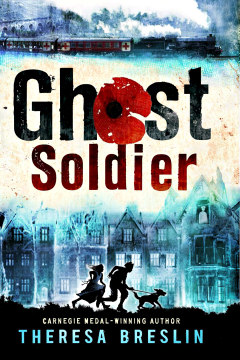 "As Rob helped Millie over the wall, he couldn't resist taking a final glance back at the house.
Again – from the end attic window . . . a flash of white.
Rob's breath caught in his throat. Then he laughed
at himself. It would be a gull nesting on the windowsill. Not a ghost.
There were no such things as ghosts..."
Rob and Millie's father goes missing in action while serving at the front during the First World War. The children desperately search the hospital trains returning to Edinburgh with the wounded. But there's no sign of him.
An abandoned building deep in the woods is suddenly full of doctors treating soldiers with shellshock – but after Rob and Millie overhear a suspicious conversation they decide to uncover what is really going on at this new hospital. Who is the ghostly figure the children spy looking out of one of the top windows? And will their beloved father ever return to them alive?
'If a WWI story can be lovely, this is it. Lots of brave acts from lots of people, and much kindness.'
THE BOOKWITCH
Ghost Soldier - Lesson Plans and Activities are now available for teachers - Free Download from TES